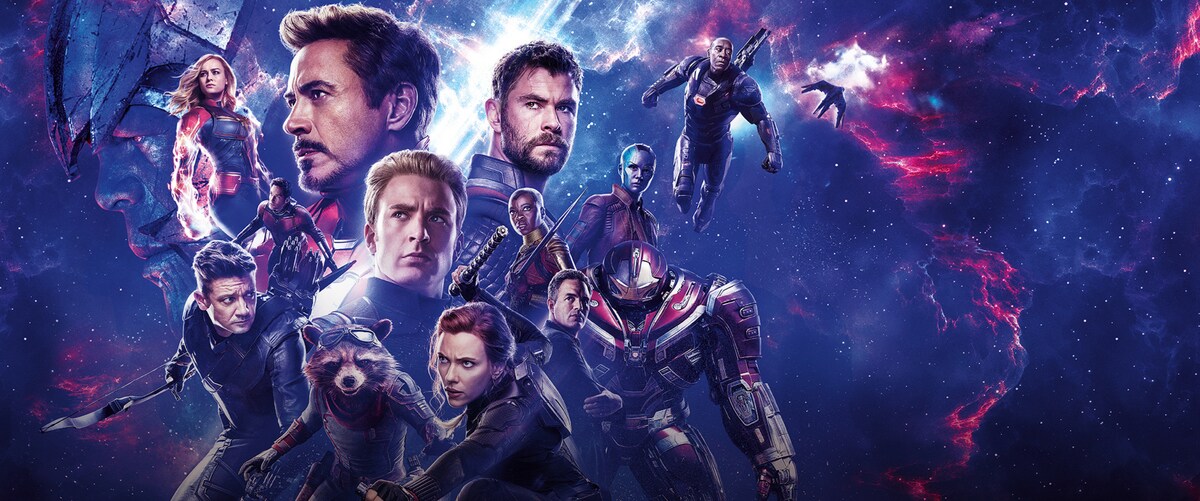 Welcome to the first edition of "The Art of Marketing", where we analyze the campaigns used to sell films, from those that were successful to the interesting to the ones that failed.
Before Avengers: Endgame was released, predictions were made regarding the amount of money it would take in on its opening weekend. Although everyone expected it to bring in tons of money, many analysts cited its run time (3 hours) as a potential setback, making it difficult for the film to break most of the records set out by its predecessor Avengers: Infinity War.
They were wrong. So very wrong. Every single box office record was broken.
Although its success was always a given as we are talking about a multi-million well known intellectual property, what helped elevate the movie to the level of generational event?
Mostly…its good old fashioned marketing campaign. Well, maybe not so old fashioned.
After the end of Avengers: Infinity War, many people wondered how Marvel would promote the sequel, considering the cataclysmic state the surviving Avengers were left in after Thanos's snap resulted in the disappearance of life for half the universe.
The answer was simple: Secrecy.
Although the directors, Joe and Anthony Russo, are on record saying that the limited information available on the blockbuster was to keep all story details under tight wraps in order to preserve the surprises and twists until audiences were able to experience them in the movie theater, it was also very clearly a brilliant strategy taken by Marvel and Disney.
In this era of immediacy where audiences feel the need to be the first to witness large pop culture events in fear of being spoiled, the producers took advantage of this by shrouding the movie with a wall of mystery and finality, giving people the smallest details of information as its marketing campaign went along and reaping the curiosity of audiences who wanted to know how Marvel's saga would conclude.
The full title wasn't even known until December 7th, 2018, when the first teaser trailer was released, a mere four months before release.
The second and final trailer was then shared on March 14th, close to just a month before being unleashed onto movie theaters. Still not much was revealed.
And even then, plot details were still being kept to an absolute minimum, only confirming that the remaining Avengers would embark on a special mission to try and recover their fallen friends and loved ones as well as the existence of new suits the team would wear.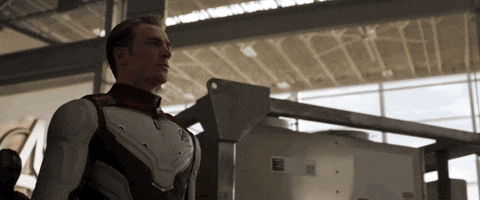 The franchises unique position of having built up an emotional connection with its fans for the past 11 years as well as relying heavily on nostalgia yet limiting the new footage we had seen up to that point keeping the allure of mystery and secrecy was the key to the effectiveness of its marketing material with both being the top viewed trailers of all time in under 24 hours after their uploading.
Now, it's also important to note that not even the trailers were being trusted by fans as the Russo brothers had already acknowledged since Infinity War that promotional material contained intentionally misleading shots and scenes not included in the final film.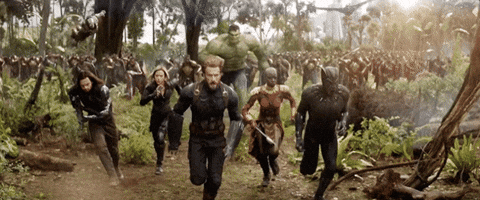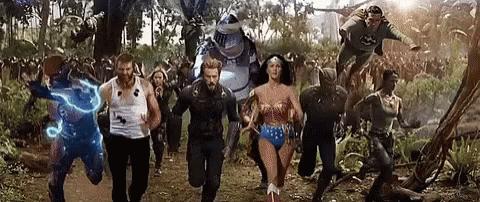 A couple of weeks later on April 2nd, tickets finally went on sale. Demand was so high that it broke the record for most presale tickets sold in six hours, selling 5 times what Avengers: Infinity War did and crashing numerous websites due to heavy traffic.
Adding to the feeling of confidentiality and excitement, the Russo brothers shared a letter shortly before the premiere on their social media begging fans not to spoil Endgame, just as they did with Infinity War, driving already massive expectations for the surprises and twists even higher.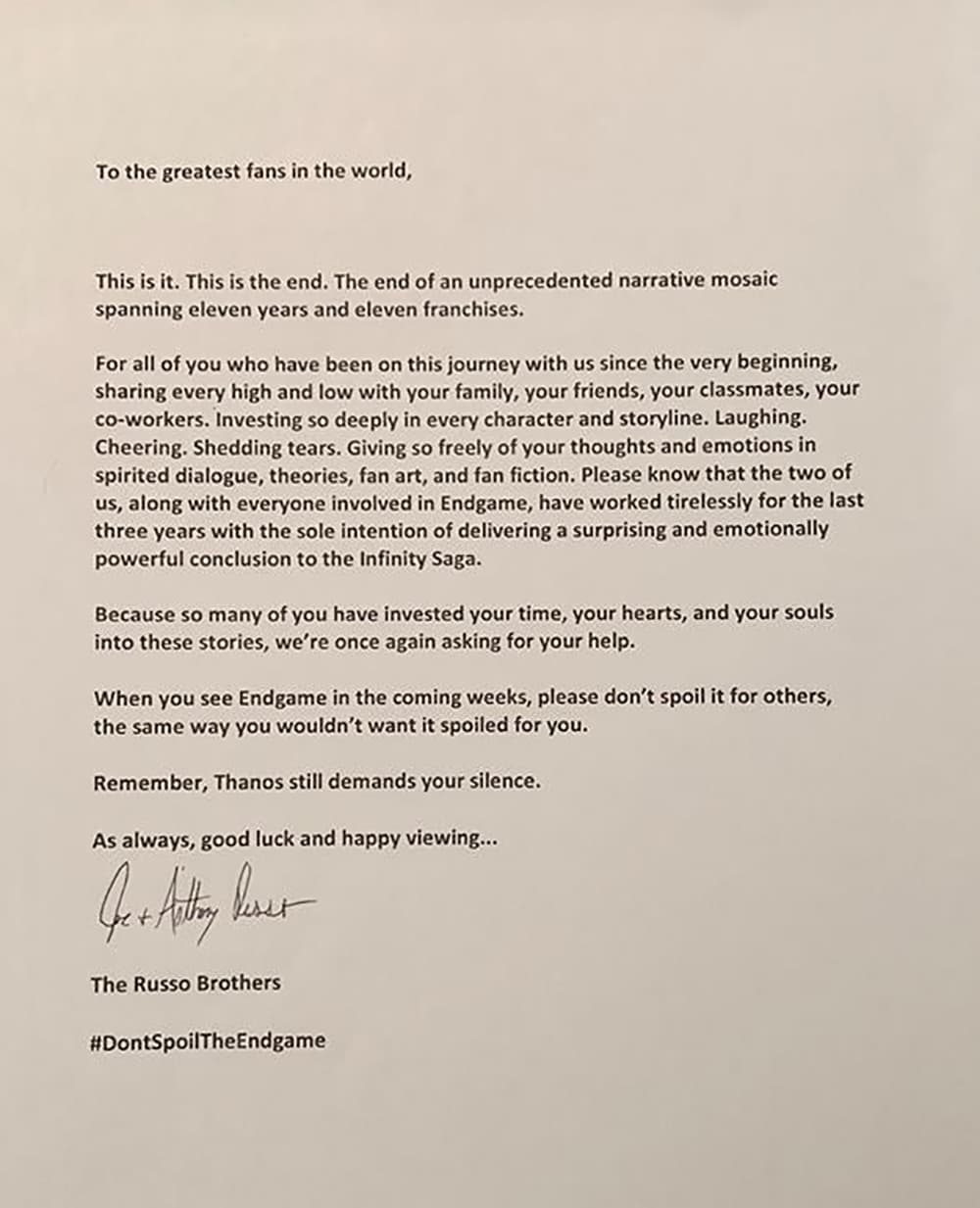 At the end, Marvel and Disney ended up spending a mind blowing $200 million dollars on its marketing campaign for Avengers: Endgame, with promotional partnerships that included:
On its opening weekend alone, Avengers: Endgame amassed a worldwide total of $1.223 billion dollars. To this date, its international total stands at $2.625 billion, placing it as the second highest grossing movie of all time behind Avatar, whose $2.788 billion may not be #1 for much longer.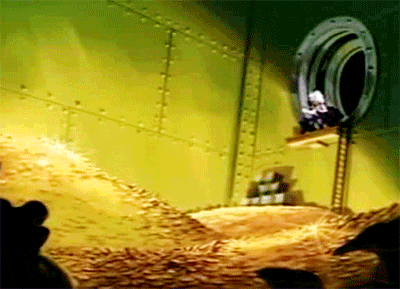 The mix of constant exposure, fear from fans being spoiled, powerful promotional partners, effective use of nostalgia and mystery in its trailers and feeling of closure to an era proved to be a winning strategy.
LESSONS LEARNED
Make an emotional connection with your core audience throughout the marketing campaign.
If you have the resources, use them.
Less is more when it comes to revealing the plot of your movie (DC, take note)
Be Disney/Marvel, or if you can't… wait for Disney to buy you.