THE STORY
Two lighthouse keepers try to maintain their sanity while living on a remote and mysterious New England island in the 1890s.
THE GOOD
Getting any film made is difficult. Getting your first film made which is a horror story with few jump scares and comprised of unknown actors who speak in an ancient language? Even more so. Director Robert Eggers was going through exactly this problem as no studio was willing to produce his dark fairy tale which involved a banished family of farmers who face witchcraft in 17th Century New England.
Depressed and frustrated that the project was stalling, he met with his brother Max for dinner. The younger sibling told him of an idea he had for a screenplay; an adaptation of Edgar Allan Poe's infamously unfinished short story… "The Lighthouse" – "A ghost story set in a lighthouse" as he described it. Robert was angry and envious that he hadn't thought of it first.
Then he realized what a great idea it was.
Instantly, images formed in his head on how to tell such a story – images in black and white, shot through old, unused aspect ratio and vintage cameras, images of, as the director says, "cable-knit sweaters, salt cod, clay pipes, hand-rolled cigarettes…for months, I'd thought of mermaids and foghorns and Fresnel lenses and mysteries."
Suddenly, financing for his long gestating horror project came through. Released in 2015, The Witch quickly became one of the most talked about films when it premiered at the Sundance Film Festival and then became a hit for distribution company A24. Robert Eggers was now in high demand.
Rather than heading into big budget territory like many other directors who have encountered such quick fame, Eggers decided to retake the script he had started with his brother. After realizing they wouldn't be able to finish Poe's work, they decided to use the name of his short story only and create an original screenplay based on a famous incident known as "The Smalls Lighthouse Tragedy" – where, in 1801, two lighthouse keepers found themselves marooned and fighting for their sanity when a major storm hit – giving it a folklore bent along the way.
While the screenplay was developed, the director and his cinematographer Jarin Blaschke worked on the look of the film. In order to make the images that had conjured up on Eggers mind a reality, a variety of techniques were used to best evoke the visual language of 19th century photography.
To achieve this, camera lenses from 1905 and the 1930's were to be used along with special filters which were created for newer cameras; it would have an aspect ratio of 1.19:1 (used only from around 1926 to 1932 approx.); and it would be shot on 35mm black and white film stock – rather than filming in color and then just modifying the image digitally as you would with a cellphone filter nowadays.
Luckily, the casting for the two sail men proved to be much quicker; both actors simply contacted Eggers. After The Witch was released, Willem Dafoe and Robert Pattinson reached out to the filmmaker, letting him know how impressed they were with his first feature and expressing their desire to work with him on whatever he was doing next.
Filming took place for 34 days in Nova Scotia, Canada; specifically Cape Forchu, "the most punishing, inhospitable piece of land we could find … but with good road access!". A 21 meter high lighthouse was constructed to fit the crew's special needs.
The shooting process proved to be so brutal – with punishing weather conditions on a remote location, extremely sensitive cameras that constantly broke down and two men with polar opposite acting methods which inevitably created some tension -, Pattinson claims that it's the only time he came close to punching a director.
The director remained unpunched, completing work on his second feature film: The Lighthouse.
THE BADILLO
Dafoe vs Pattinson
Few people can do "losing their sanity" as well as Willem Dafoe and Robert Pattinson. Dafoe uses his characteristic strange charm mixed with his wide eyed look and giant grin for this "Captain Ahab" type persona while Pattinson continues to prove that he's some of the most exciting and talented young actors working today.
Both actors give it all in fearless, mesmerizing and captivating performances that tread a fine line between scary and funny, making for an incredibly compelling watch as we accompany them through this harrowing descent into madness.
Cinematography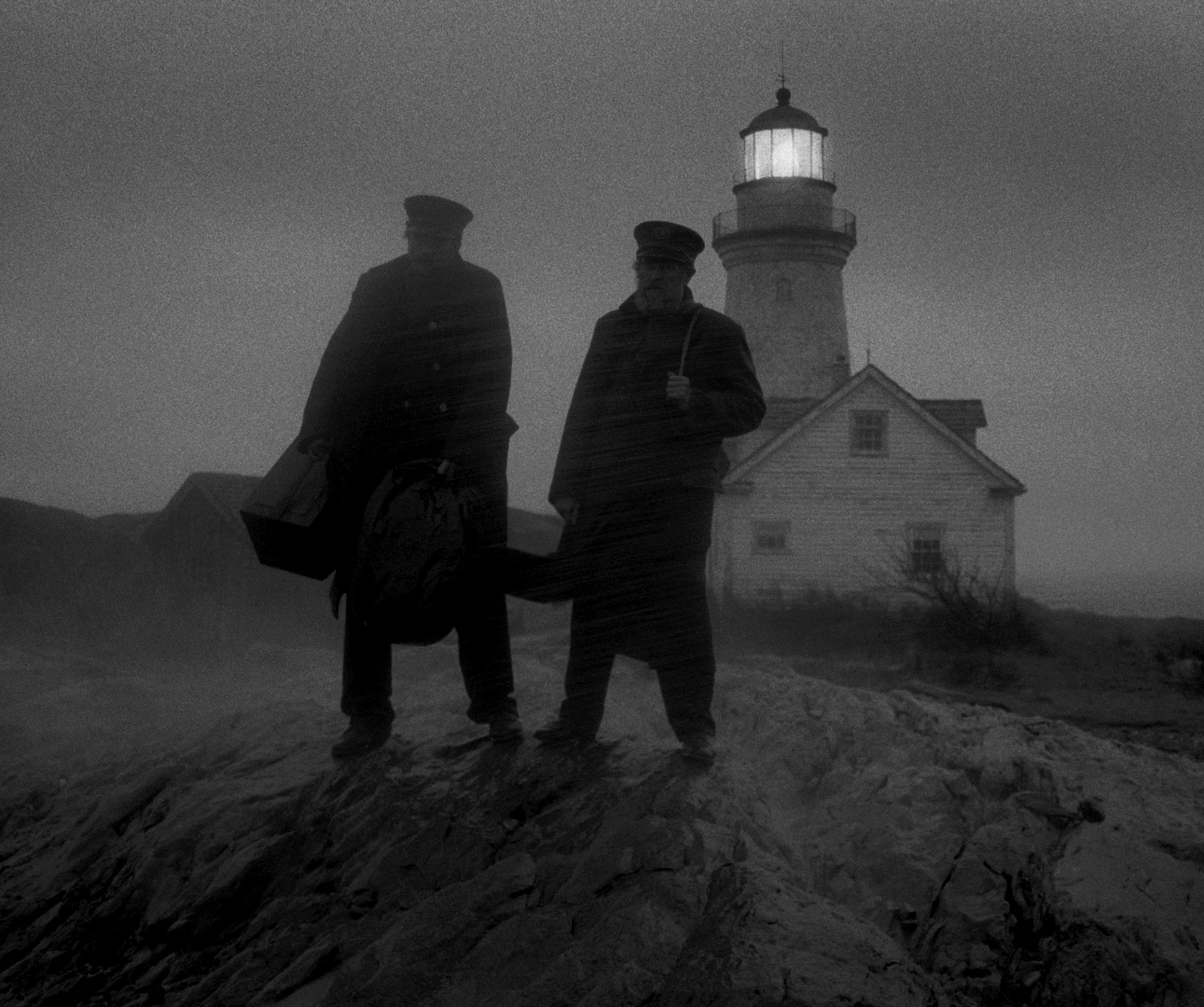 All the insanely complex and hard work put behind shooting The Lighthouse certainly paid off, as the final product easily stands as one of the most interesting and gorgeous looking films in recent years.
Not only do the various technical aspects previously mentioned give it a unique, dirty and claustrophobic look, but the composition is exquisite, turning almost every frame into a painting one could hang on a wall to admire.
The Myth and Madness
As desolate places far away from civilization in the middle of large bodies of water, lighthouses have always had held a certain mythical and Lovecraftian quality, with them regularly featured in tales of mermaids, sea monsters and old gods buried under the sea. Egger's film etches this type of folklore into its DNA, elevating what could have been a simple horror story into an epic packed with a fascinating thematic richness.
However, it also smartly deals in ambiguity, heightening the sense of surrealism and terror in the unknown. The more the story advances, the deeper down the rabbit hole the characters go, and by extension so does the audience, with the film being a particularly disorienting and haunting experience.
Horrifically Funny
For a film that deals with some quite bleak and violent imagery, it also happens to be much funnier than expected. After all, don't things tend to seem quite funny when we start losing our mind?
There is also plenty of scatological humor.
And I absolutely take that last part as a compliment.
THE MUSIC
Just like its cinematography was meant to evoke a certain time period, so was the music crafted with specific ideas in mind. In this case, the director and composer Mark Korven looked to create a score which brought to mind sounds from the sea like foghorns and a dash of inspiration from Greek music and old movie soundtracks.
The music for The Lighthouse is, just like the film it accompanies, a work of atmosphere, perhaps not meant to be enjoyed in the regular sense of the word, yet this dark, brooding and menacing soundtrack remains excellent.
THE DIALOGUE
I could write the dialogue here as one usually does, but not only is the text is so long, it would also be a disservice to the magnificent work done by Willem Dafoe reciting it in what is, from start to finish, one of my favorite scenes of the year:
THOMAS WAKE
Why'd ya spill yer beans?
THE BETWEEN
Because of the film stock used, the crew had to set up about 15 to 20 times more light on set for the camera to capture something, resulting in the actors barely being able to see each other.
Robert Pattinson and Willem Dafoe took dancing lessons as preparation for their roles.
While writing the screenplay, Robert Eggers listened to hours of YouTube videos of subwoofer rumblings, waves crashing, wind blowing, and foghorns.
Director Robert Eggers and star Robert Pattinson break down a scene from the film:
FINAL THOUGHTS