THE STORY
Marcus and Mike have to confront new issues (career changes and midlife crises), as they join the newly created elite team AMMO of the Miami police department to take down the ruthless a vicious leader of a Miami drug cartel who is looking to kill Mike.
THE GOOD
Once upon a time, a script called Bulletproof Hearts fell into the lap of 90's uber producers Jerry Bruckheimer and Don Simpson, about two Miami cops who must switch their lives to protect a witness to a murder. Bruckheimer and Simpson knew there were only two actors for the job: Jon Lovitz and Dana Carvey.
But then the producers would make a decision that would shape the rest of the franchise: Hiring young, hip music video director Michael Bay (Transformers series, Armageddon, Pearl Harbor). After Bay shot a screen test with the two comedians, the filmmaker reportedly took that idea, locked it up inside a building and proceeded to blow it up.
The script was also deemed to be a terrible mess so Disney passed on the project, where it later arrived at Columbia Pictures. There, executive Barry Josephson pushed to change the leads to two black actors.
Shortly after, Martin Lawrence – who was enormously popular because of his hit sitcom Martin – became attached to the project. But one half of the police duo was still missing.
One day, while watching television, Bay came across the TV show The Fresh Prince of Bel-Air and became fascinated with its lead actor. He saw in him the potential to not only create an action hero, but an international movie star; that young actor was Will Smith.
With all the elements in place – including a wise change to its title – Bad Boys began principal photography on June 27, 1994 in Miami and was released on April 7th, 1995. It proved a commercial success grossing $141.4 million on a budget of $19 million and turned Smith into a bankable leading man.
In 2003, the whole team reunited to deliver Bad Boys II. Despite negative reviews (23% on Rotten Tomatoes) and critics calling it an overlong, unnecessarily violent and superficial movie, the sequel was an even bigger hit at the box office grossing $273 million worldwide.
Several years passed and throughout that time, both Smith and Lawrence expressed their interest in a Bad Boys III. Bay, not so much. Besides demanding too much money to return (those explosions don't come cheap), he cited a lack of interest as he felt too much time had passed, even making fun that the third installment should be called "Bad Old Boys".
Real progress was finally made in 2015 when Joe Carnahan (The Grey, The A-Team) was hired to write and direct the sequel. That same progress came to a stop after Carnahan left the project in March, 2017 citing repeated delays and the dreaded "creative differences". By September, Lawrence declared that the movie had been shutdown and would not happen at all.
But!
Real real progress was made when in early 2018, up and coming Belgian directors Adil El Arbi and Bilall Fallah were hired to direct what was now called Bad Boys for Life with original stars Will Smith and Martin Lawrence and this time it was actually filmed, edited and released.
Michael Bay exploded something somewhere in celebration.
THE BADILLO
The Bad Boys
The palpable chemistry and friendship between Detectives Mike Lowery and Marcus Burnett is a reflection of the chemistry and friendship between actors Will Smith and Martin Lawrence and was the main reason the original Bad Boys worked in 1995 and why it still works in 2020 . The fun had while making these films is visible on screen and you can't help but root for the two mischievous police officers to come out on top and alive.
Their dynamic was never broken, so thankfully it hasn't been modified, with Smith still the action hero of the pair while Lawrence is the comedic side, yet each still have their moment to shine in both exciting and funny sequences.
The (Old) Bad Boys
Lawrence and Smith are now in their 50's, not so much Bad Boys nor even Bad Men but more Bad Seniors, and this third entry smartly takes that into consideration to inject a little bit of soul to what could have been a run of the mill action film.
Now, sequels that take place decades after the original and which acknowledge that their stars are no longer spry young men are dime a dozen, yet Bad Boys For Life is able to turn maturing into the theme of the movie rather than a throwaway joke (although that does happen also) putting it a cut above a majority of those sequels.
The (New) Bad Boys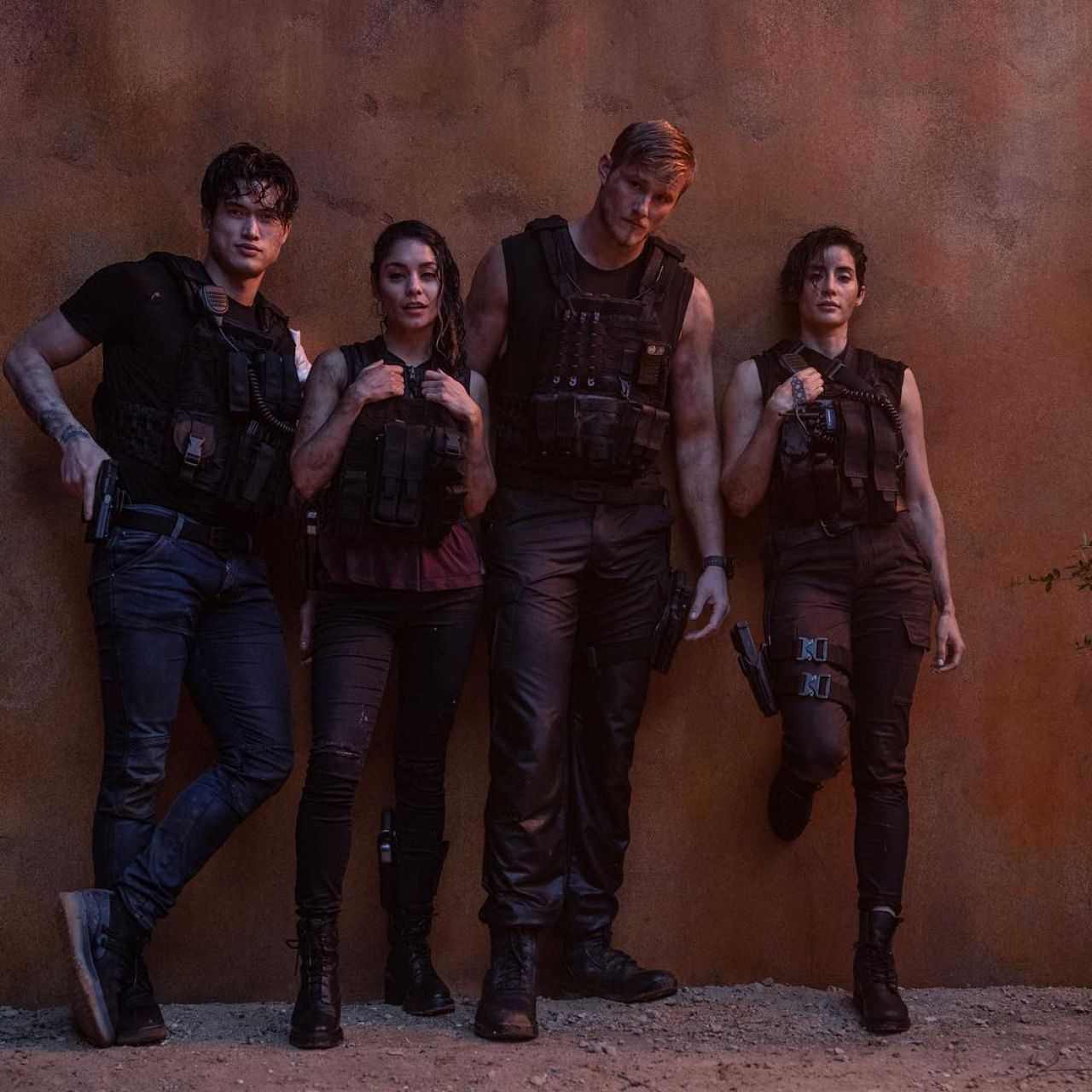 It's pretty much a fact that if any action franchise goes long enough, a trite and mostly uninteresting cliche will be used, where the main characters will see their job threatened by a group of young and hip actors who are positioned as those who will inherit the franchise.
Here, that's represented by the Advanced Miami Metro Operations or AMMO, comprised of Vanessa Hudgens, Alexander Ludwig and Charles Melton, a group that really could have used at least one unattractive person to not make audiences feel so bad. However, thanks to the trios charisma and the fact that the script doesn't handle them as "Bad Boys: The New Generation", the cliche is narrowly avoided, making for some interesting and fun characters instead.
Action For Life
Besides the duo headlining the movie, the other reason people watch these movies are the shootouts, fistfights, chases and explosions that slowly destroy Miami. Thankfully, there's no shortage of these above situations, making for some memorable and exciting set pieces.
And despite original director and explosion maestro Michael Bay missing from this installment, Adil & Bilall are able to not only retain and homage some of Bay's original iconography – those 360 degree shots or planes flying over the Miami sign – but even give the action a fresh and dynamic visual style of their own.
Joey Pants
Joe Pantoliano is always an asset to have on any movie. The noted character actor returns for the third time as Captain Howard, the perpetually frustrated boss who alternately berates and protects his detectives and just like the last two films, Pantoliano is a joy to watch while he screams half his dialogue while providing our heroes with some poignant and heartfelt lessons at the same time.
THE MUSIC
For this third entry Hans Zimmer alumni, Lorne Balfe takes over the score from Mark Mancina. Although Balfe can be quite hit or miss as his music tends to be quite bland and usually has a heavily synthesized sound, this second part actually works to the benefit of Bad Boys for Life as it's able to replicate the computerized soundtrack from the 90's while adding some new touches.
Besides the famous Inner Circle song that inspired the name for the franchise, Balfe brings back Mancina's memorable main theme, giving it a more modern and epic spin through the use of a choir and more robust instrumentation.
There's also a separate soundtrack that includes artists such as The Black Eyed Peas, J Balvin, Nicky Jam (who also acts in the movie) and Pitbull.
We can skip that.
THE DIALOGUE
MIKE LOWERY
What happened to "bad boys for life"?

MARCUS BURNETT
It's time we be good men.

MIKE LOWERY
Who the fuck wants to sing that song?
MIKE LOWERY
Hey, nobody touches the shooter – He's mine!

MARCUS BURNETT
Uh, yes he is..
THE BETWEEN
Despite both actors receiving top billing, this is the first film in the series where Will Smith is billed first & Martin Lawrence is billed second.
THE CONCLUSION