THE STORY
An American expat tries to sell off his highly profitable marijuana empire in London, triggering plots, schemes, bribery and blackmail in an attempt to steal his domain out from under him.
THE GOOD
One would think that living many years near English royalty wouldn't lead you to a career built on examining the criminal and gangster underworld of London. Yet this was the path chosen by director Guy Ritchie.
With an ancestry that goes directly to King Edward I of England, Ritchie was constantly surrounded by aristocracy as a child. When he was five years old, his parents divorced and each remarried to rich and influential individuals within politics. He even attended prominent boarding schools until the age of 15, when he was expelled due to drug use and severe dyslexia.
During this time, Ritchie has admitted to running with some less than honorable crowds, ones which would influence his trademark movies, commenting "If you haven't lived, you're nicking ideas from other people's films.". At the age of 25, after a series of low-level jobs, his interest in filmmaking awoke and he was hired by a friend to be a runner (most junior members of a television or film crew).
Soon he began helming commercials and music videos and then broke into film with his short The Hard Case in 1995. Despite making an impression in the business, it took several years until he was able to get financing for what would be his feature debut; Lock, Stock and Two Smoking Barrels, released in 1998. It immediately established the filmmaker's kinetic direction, frantic editing and love of cockney criminal schemes told through Hyperlink cinema. It also proved to be a commercial success grossing $28 million based on $1.35 million budget.
This was followed in 2000 by his most popular and iconic film, Snatch. Sadly, his third film – a collaboration with his then wife, Madonna – Swept Away, was a massive critical and commercial failure, considered one of the worst films ever made and grossed only a little over $1 million dollars from a $10 million budget. Revolver (2005), RocknRolla (2008) were an attempt to return to his black comedy roots yet also found little success.
However, Ritchie's career would rise again when he turned his eye to blockbusters with 2009's Sherlock Holmes. The critical and commercial success of this adaptation would find him directing a couple of big budget movies that were also big wins, namely the sequel Sherlock Holmes: A Game of Shadows (2011) and Disney's live action adaptation of Aladdin (2019). Unfortunately, the same can't be said about The Man From U.N.C.L.E. (2015) and King Arthur: Legend of The Sword (2017), as both were considered the biggest flops of their respective years, despite being much better than what their box office intake would suggest.
In 2018, Ritchie announced his return to the genre he helped popularize – as well as taking a much needed break from handling huge amounts of money and managing enormous productions – with his fifth crime comedy caper: The Gentlemen.
THE BADILLO
The Gentlemen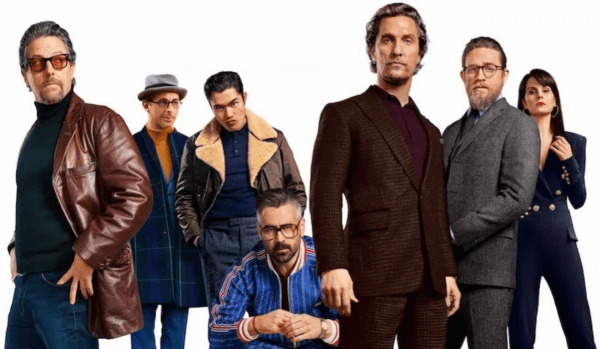 There's a number of joys to seeing Ritchie return to the genre that made him famous.
The first one is his ability to always cast his characters just right with a group of fantastic and talented actors. This time, that includes Matthew McConaughey and Charlie Hunnam as our "heroes", Michelle Dockery as McConaughey stone cold wife, an against type Henry Golding as a villainous bastard, Hugh Grant as an unscrupulous bastard of a private detective and the MVP of this film, Colin Farrell.
Every actor does a wonderful job, clearly having a good time and fitting in perfectly into Ritchie's world as these macho men and tough women, spouting lovely lines of dialogue that could only have come from the mind of this director.
Ritchie Talk
Which brings us to joy number two: The dialogue.
Few directors have such an indelible way of putting words to paper and then translating those words to the screen, simultaneously turning it into an enjoyable experience for the audience and making them think "who talks like that?" while also wishing that everyone did talk like that. Guy Ritchie is certainly one of them and even when he had his family friendly, big budget era, that particular gift still found its way into his productions.
Yet here, returning to his darker and adult roots, the English director is free to unleash his usual poetic manner of speaking, having his wonderful actors come up with numerous, creative and delicious ways of spouting the word c*nt through thick cockney accents.
Ritchie's Return To Roots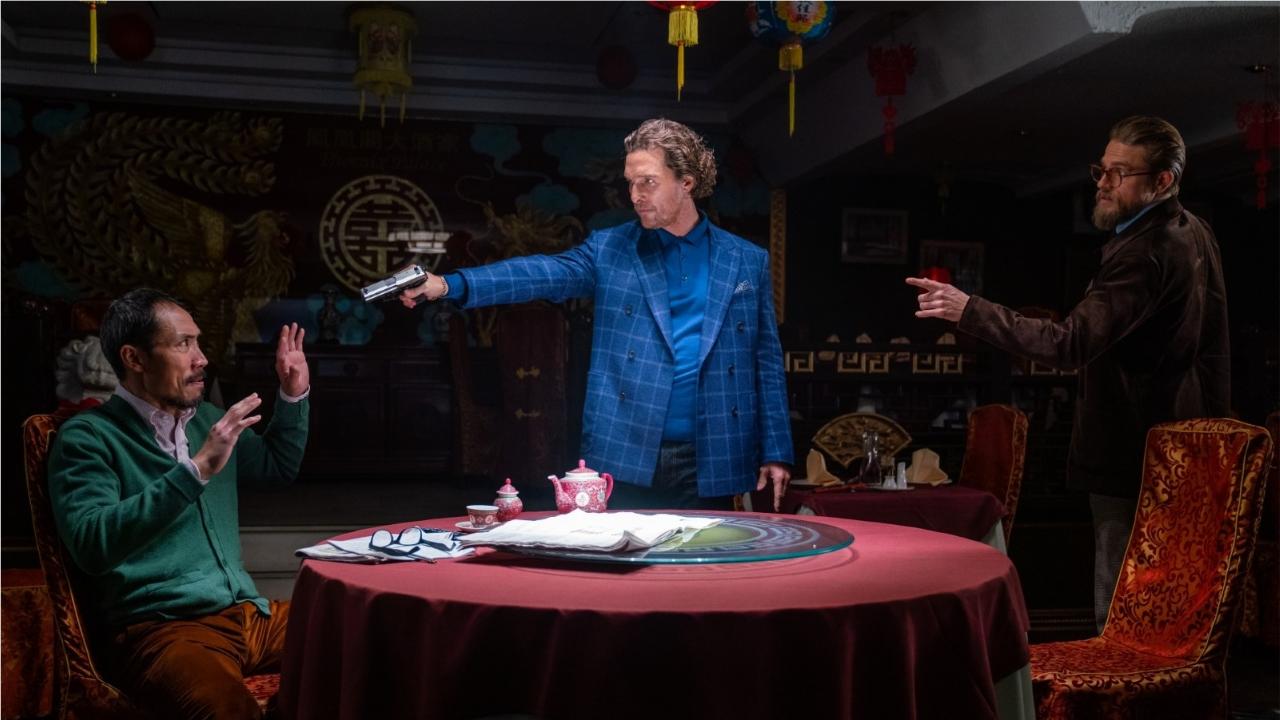 Joy number three is the filmmaker's ability to make criminal plots, double crossing, triple crossing and misfortune so much fun. With so many characters on the board, Ritchie weaves an intriguing tale full of betrayals, fateful accidents and twists through the illegal empires of marijuana trafficking.
Although admittedly some of the turns taken by the story are predictable, it never stops being an entertaining ride that's very much worth taking.
The Guy Ritchie Effect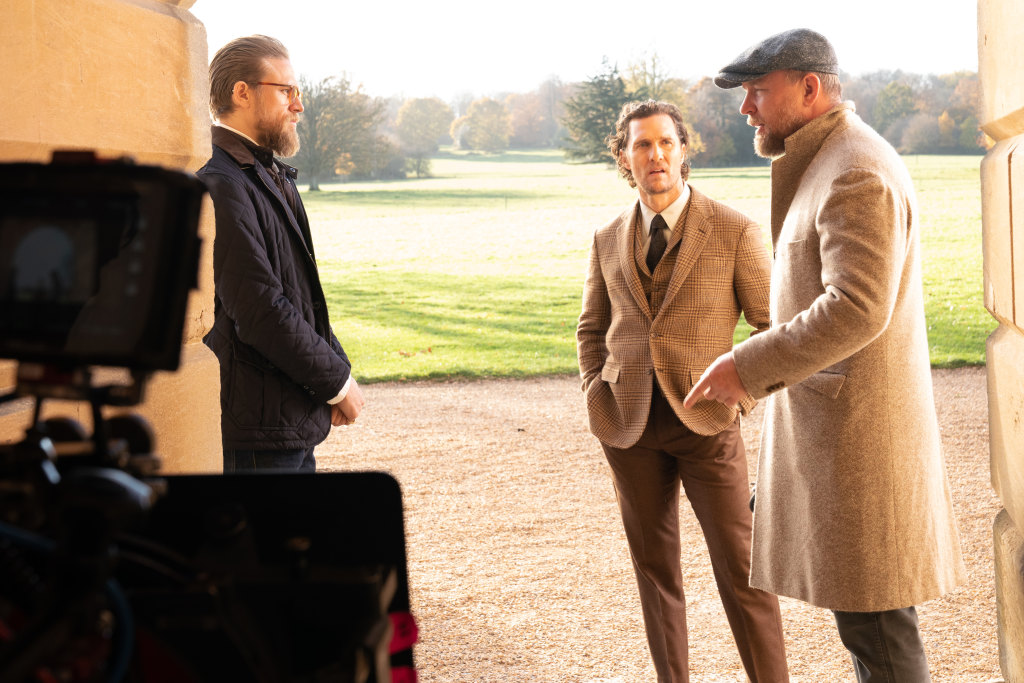 The one element that never changed and has remained a highlight throughout Ritchie's career is his cinematic sense of style. Full of snappy editing, beautiful cinematography, stylish use of music and lighting fast pace, his films will at the very least guarantee that your eyes and ears are never bored.
The Gentlemen is no exception and next to a marvelous cast, catchy dialogue and fun story, is a worthy addition into Guy Ritchie's filmography.
THE MUSIC
Typical to his other pictures, The Gentlemen employs both a minimalist, menacing and – at times – explosive score, in this occasion courtesy of composer Chris Benstead, befit of a violent gangster film surrounded by an array of rock, pop, hip-hop and electronic hits.
As usual, Ritchie has chosen a great group of songs that fit perfectly to the images put on screen which only elevate its level of "cool".
Cumberland Gap – David Rawlings
Shimmy Shimmy Ya – El Michels Affair
THE DIALOGUE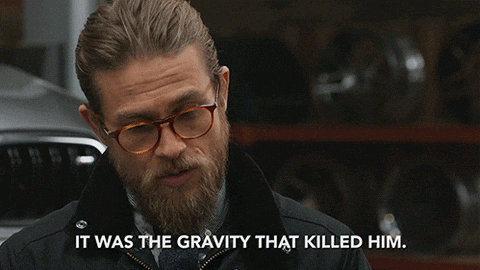 ROS
So you killed someone?

RAY
No, it was the gravity that killed him
ERNIE
Did he just call me black c*nt? That's racist?

COACH
No, it's not. You are black and you are a c*nt.
COACH
His name is Phuc, but spelled with a "ph", so it sounds like fook.

PHUC
Please!

COACH
Alright, Phuc, calm the phuc down.
THE BETWEEN
Hugh Grant filmed his scenes with Charlie Hunnam in 5 days, and had to deliver over 40 pages of dialogue within the shoot.
When Michael returns to his pub a 'Gritchie Brewery' van can be seen outside. Gritchie Brewing Company is owned by director Guy Ritchie.
FINAL THOUGHTS