THE STORY
After splitting with the Joker, Harley Quinn joins superheroes Black Canary, Huntress and Renee Montoya to save a young girl from an evil crime lord.
THE GOOD
Few comic book characters who were not actually created for comic books have gone to achieve the level of popularity seen by Harley Quinn. In recent years, the character has even broken through into the mainstream consciousness, proven by the sheer amount of people who now think its original to dress up as her in Halloween.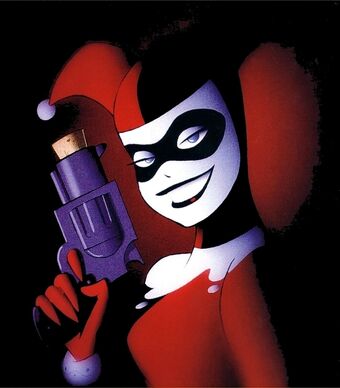 Created in September of 1992 specifically for Batman: The Animated Series, the character was originally designed as a one time appearance. Working on a freelance basis for the show, unemployed writer Paul Dini came up with a story concerning The Joker scheming an evil plan with the help of a squad of his goons. In order to add some spice – and to honor the 1966 Batman TV series where each villain had their henchgirl – he included a woman.
One day, while sick at home he happened to catch an episode of the popular soap opera Days of our Lives, where his old friend from college Arleen Sorkin made an appearance as a jester. "That's kind of cute.", thought Dini. Intrigued by the look – and knowing of Sorkin's bubbly and wisecracking personality – he was able to get her an audition on the series to voice this small part.
She got the job. Sorkin would have an enormous impact in almost every single aspect of the character.
With a play on the word harlequin (a mute character in traditional pantomime, typically masked and dressed in a diamond-patterned costume), Harley Quinn was born. Dini and showrunner Bruce Timm fully expected to use her in only one episode, yet they enjoyed having her so much they decided to keep including the sidekick as The Joker's assistant. The more they used her, the more they realized what a fascinating dynamic she had with The Clown of Prince of Crime, which in turn benefited each character.
She was soon given her own comic book origin story, explaining how she was once The Joker's therapist, with the villain eventually manipulating and twisting her mind, morphing into a quasi romantic/business relationship where the woman formerly known as Harleen Quinzel followed his every command out of a misguided feeling of love. By the time the animated series had ended, Harley still remained extremely popular with comic book fans, irrevocably becoming a part of Batman's mythology forever.
During the following years, her popularity continued growing, reaching its peak in 2016, when Margot Robbie was cast as the first live action version of the character in Suicide Squad. Despite the movie encountering a large number of problems during and after its making – as well as being very poorly received by critics – the movie proved to be a huge box office hit and everyone could at least agree that it's highlight was Robbie's portrayal of Harley.
Yet planning for a solo Harley Quinn movie began before, while Suicide Squad was still being shot in 2015, when Robbie pitched to Warner Bros. "an R-rated girl gang film including Harley, because I was like, 'Harley needs friends.' Harley loves interacting with people, so don't ever make her do a standalone film.". In 2018, newcomer Cathy Yan was selected to direct – only her second feature film. Production took place during 2018 until the next year. In 2019, the film's name was finally revealed:
Birds of Prey (And the Fantabulous Emancipation of One Harley Quinn).
THE BADILLO
Harley Quinn
Margot Robbie as Harley Quinn was one of the highlights of 2016's Suicide Squad and she's certainly one of the highlights in Birds of Prey. Robbie still carries that mischievous smile and anarchic energy that makes it so much fun to see her play the character.
This time however, being the protagonist greatly benefits Harley as it allows Robbie to give her a more relatable and human edge while keeping her dancing between the fine line of being a full blown villainess and an anti-heroine as we dig deeper into Harley Quinn's search for her own identity.
The Birds of Prey
Although this is through and through Harley Quinn's story, she is surrounded by an interesting cast of female heroines and anti-heroines – with varying degrees of success. Of the titular group, Jurnee Smollett-Bell as Black Canary and Ella Jay Basco as Cassandra Cain come out on top, begin granted the most screen time and interesting character arcs.
Although the same can't exactly be said about Mary Elizabeth Winstead's Huntress and Rosie Perez's Renee Montoya, no blame should be laid on these talented actresses, who are simply victims of a script which tries to juggle too many characters in a limited space of time. Thankfully, all four women are up to the task of kicking ass and taking names.
Black Mask
A narcissistic, egomaniacal psycopath, Roman Sionis (or Black Mask) is one nasty villain who remains thoroughly entertaining thanks to Ewan McGregor's "larger than life" performance. Such a flamboyantly gay villain is a risky proposition in this era of political correctness but it works because his sexual orientation doesn't define the character or his motivations.
This comes from Roman's fractured, neglected and privileged childhood. Ultimately, the movie paints Black Mask's psychology in broad strokes, not very interested with giving him much depth or a background yet the actor overcomes this potential flaw by presenting him via a fun portrayal with a loud and over the top exterior – along with outrageous costume designs – which gives us just a hint of what lies underneath.
It's A (Wo)man's World
During one of the climactic action sequences, one of our female heroines is having some issues fighting as her long hair gets in the way, so another protagonist throws her a hair band to tie it. Although it might seem like a small and insignificant detail, it's a lovely reminder that this was a project led and directed by and for women, showing a level of understanding and empathy on topics of female empowerment and abusive relationships from a woman's perspective.
The film is full of these delightful moments, dealing with such issues from a thematic to a literal sense and doing a much better job of representing a female point view on women's struggles than other recent female superhero movies (*cough* Marvel *cough*).
Harley Wick
It's hard to make memorable fight and chase sequences when there are so many action and superhero movies nowadays, yet hiring stunt company 87eleven Action Design – from John Wick directors Chad Stahelski and David Leitch – is a step in the right direction, one that pays off with a series of exquisite and bone crushingly satisfying action scenes.
Like the Wick series, Birds of Prey looks to cement its punches and kicks within the realm of reality, refreshingly limiting the use of CGI in a comic book movie and also taking a page from Jackie Chan's style of sprinkling humor around the pain.
Fantabulously Funny
Despite falling dangerously close into emulating the visual style and comedic tone of another certain famous and violent superhero who likes to break the fourth wall, narrate and crack jokes – one who happens to come from rival studio, Marvel – Birds of Prey is still a very funny entry in the DC Extended Universe, full of dark comedy and the irreverent tone the character is known for.
THE MUSIC
Daniel Pemberton (Steve Jobs, Spider-Man: Into The Spider-verse), continues to prove to be one of the most interesting and freshest voices in the soundtrack world today with his score for Birds of Prey. The English composer delivers a hard-hitting score that has a fusion of electronic, rock and roll and classical sounds with lots of twanging guitars, heavy drums and menacing synthethizers which looks to capture Harley Quinn's devil may care attitude, the punkish tone of the movie and the menace represented by Black Mask.
Besides the instrumental score, the movie makes use of classic rock songs like Spiderbait's "Black Betty" and Heart's "Barracuda", while a separate album was commissioned which only includes female artists that also offers some interesting tracks.
The Fantabulous Emancipation of One Harley Quinn
Harley Quinn (Danger Danger)
THE DIALOGUE
HARLEY QUINN
Oh hey, you're that singer no one listens to.

BLACK CANARY
Oh hey, you're the a**hole no one likes.
HARLEY QUINN
I'm the one they should be scared of! Not you, not Mr J! Because I'm Harley Fucking Quinn!
THE BETWEEN
The egg sandwich that is made for Harley Quinn is not made with chicken eggs, but instead with duck eggs, as Margot Robbie is allergic to chicken egg whites (she gets migraines from them).
The clip which directly inspired Paul Dini with the look and personality of Harley Quinn makes an appearance.
FINAL THOUGHTS