THE STORY
Two elven brothers embark on a quest to bring their father back for one day.
THE GOOD
Nobody makes audiences cry quite like Pixar. Throughout 21 films, the famed animation studio has built this reputation through stellar animation and heartwarming storytelling that surely broke your heart or got a tear out of you somewhere along the line.
Whether it was learning how to say goodbye through inanimate toys coming to life, exploring grief with the tale of an old man going on the adventure of a lifetime in order to fulfill his late wife's wish or examining social anxiety by representing the emotions of a young girl with living caricatures.
It's no coincidence that those considered their greatest achievements are the ones which tap into universally shared emotions or situations we've all daydreamed of and also happen to feel personal for the filmmakers who are in charge of that particular story.
Director Dan Scanlon had just one of those stories.
Although Scanlon enjoyed a happy childhood next to his older brother, they had always felt a hole growing up; their father had passed away when the filmmaker was only one year old. Being so young, they had no concrete memories of him, only what they had seen of him in pictures, silent home movies or heard of him in stories from friends and family.
When he was 16, he received a cassette tape from another family member with a note that said "I think your Dad's voice is here". Once they played it, they did in fact hear their father saying only two words for the first and only time.
"Hi" and "Bye".
"I mean, if you're only going to get two words, it's nice to have those two.", the director said.
This way of life proved to be so normal for Scanlon that when thinking of an idea for a Pixar film, he told his mother, "'The truth is, I don't know what to make a movie about, because nothing sad ever really happened to me.'"
"'You lost your father,'" his mother said.
"'Yeah, but that's not sad, because I don't remember him,'" Scanlon replied
"'That's why it's sad.'"
Inspired by his mother's word, Scanlon developed Pixar's next project as a loving tribute to his father's memory; In a magical land full of mythical creatures, two brother elves seek out the means to complete a spell that will allow them to spend one day with their deceased father.
A tribute he called: Onward.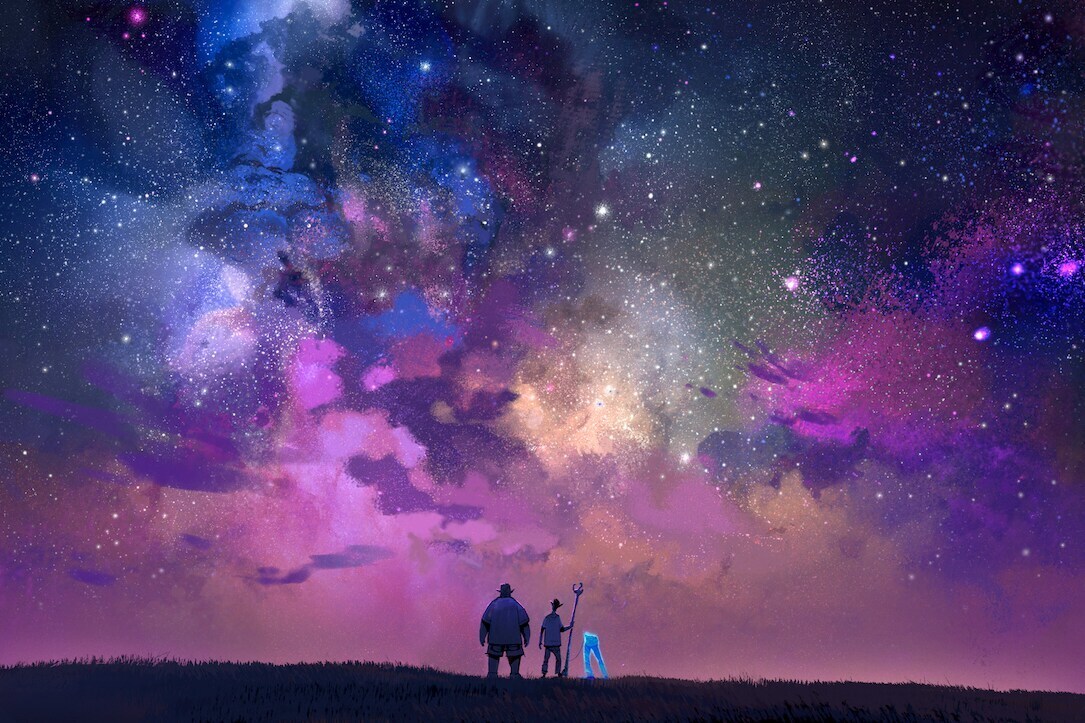 THE BADILLO
FANTASY LOVE
Next to its ability to make people weep like a newborn baby is Pixar's attention to detail and homages to its influences. In the case of Onward, it never parodies the fantasy genre it is set in, instead lovingly referencing it through the use of tropes from this genre.
You can tell the filmmakers are either big fans or have done their homework not only because of how they interweave these elements into their own story but also the various nods to many beloved franchises, meaning fans of The Lord of the Rings, role-playing game Dungeons & Dragons, card game Magic and Harry Potter should keep their eyes and ears peeled for fun Easter eggs.
BROTHERS
Teaching the importance of family in animated movies are dime a dozen, yet Onward's exploration of the importance of having a role model while growing up without a father and what a brother can mean to you is territory that has rarely been explored.
And in true Pixar fashion, they deftly handle their theme, never moving over into what could have easily been cheesy or saccharine territory, rather delivering just the right amount of sweet, heartfelt and earnest lessons with the help of a perfectly cast Tom Holland and Chris Pratt.
Thankfully, Holland never reaches full Peter Parker mode nor does Pratt go full Star Lord but are still able to bring out the necessary emotion. It further helps that a real sense of chemistry and bond shines through because of the friendship they have built in real life after working on the Marvel films for several years.
MAGIC IS IN THE DETAILS
In its 25 year trajectory, the animation studio has continuously improved its techniques and technology to consistently deliver some of the most eye catching and gorgeous animation to ever grace the screen. Film after film has seen them innovate distinct areas and I'm happy (also not particularly shocked) to announce that their 22nd film continues with that trend.
Besides the detailed look of clothes, characters, places and all around objects, the biggest breakthrough on this film is dealing with the father's missing upper half which needs to look and feel as though there's only straw and air to fill that space. These kinds of elements are usually taken for granted with the thought of "oh, it was just done by a computer", both the brilliance and curse for animators; it's so good they make it look easy.
If you have an interest in animation, I highly recommend checking out the video found in The Between section below which details how this was accomplished.
A WEEKEND AT PIXAR'S
Related to the previous point, the movie also has a lot of fun with its Weekend At Bernie's-esque premise, of course working much better here, because, you know, this one is not about two losers carrying a dead body around to fool people and enjoy his luxuries (of which there was somehow TWO movies).
The same kind of slapstick humor of a semi weightless person deceiving others into believing he has control over his body is used to great effect, with some clever ideas thrown in along with its wonderful animation.
Of course, this isn't the only comedy to be found as the movie remains funny and fun throughout its duration while not losing sight of its emotional core.
What I'm saying is you'll most likely laugh while you cry and cry while you laugh. You know, Pixar.
THE MUSIC
Despite so many years in the business, Pixar has only kept 6 musical composers so far. Between that small number, we can find those who provided the soundtrack for Onward, brothers Mychael and Jeff Danna (The Good Dinosaur).
Splitting the soundtrack into two sounds, each brother (the characters, not the composers) has their own sound and style. For Ian, the quiet and shy brother, there's sentimental pianos and soft instruments while Barley, the loud and excitable fan of magical quests, gets "Heavy Metal" (Disneyfied metal) guitars and energetic music which becomes intertwined as the film progresses.
Now, both composers are certainly talented, having amassed a fantastic career and this soundtrack is good, making you feel excited or emotional when you're supposed to, but their work here isn't exactly memorable nor does it shine compared to past Pixar entries.
Dad – Jeff and Mychael Danna
Dance Fight – Jeff and Mychael Danna
THE DIALOGUE
OFFICER AVEL
Last name?
THE MANTICORE
Manticore.
OFFICER AVEL
First name?
THE MANTICORE
The.
BARLEY
There's no top part – I definitely remember Dad having a top part!
BARLEY
It's not fair for you to call me a screw up if you don't give me a chance to do one thing right.
THE BETWEEN
The popular "A113" reference is present in this film as it is in all Pixar films. The Police call that comes through near the end says "A 113 in progress". A113 was the classroom used by John Lasseter, Tim Burton and Brad Bird at the California Institute of Arts and appears in all Pixar films
Pixar's iconic Pizza Planet truck appears in the troll bridge toll scene.
The film was banned in the Arab countries of Kuwait, Oman, Qatar, and Saudi Arabia, as one female cyclops police officer character in the film named Specter (voiced by Lena Waithe) briefly indicates that she is a lesbian.
THE CONCLUSION